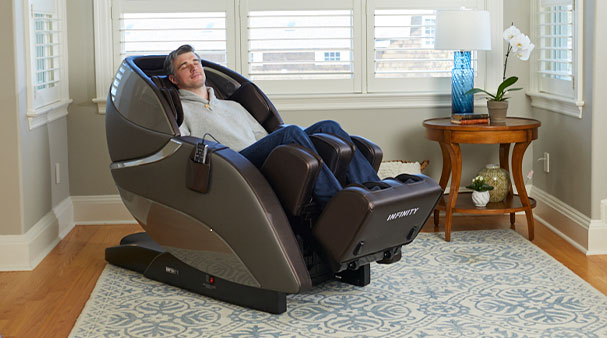 Consider creating a space at home that can help you relax and reboot. Being able to improve your self-care in the convenience of home is priceless. Think of how amazing it will be to retreat to your home spa after a long day of commuting in traffic, standing on your feet all day, carpooling, or even recovering from a long day of golf. 
Massage therapy is the perfect way to help rejuvenate your mind, body and soul. A massage chair is a great investment for incorporating full-body massage into your wellness space morning, noon or night, whenever you need it, no appointment necessary. 
Benefits of a Wellness Room:

 
1- Mental health reboot

 

2- A break from Devices

 

 
3- Dedicated space to relax

 

4- Entire family can enjoy

 
Benefits of Massage in a Wellness Room:
1- Reduce stress
2- Boost mental health
3- Improve sleep
4- Manage pain
5- Improve circulation
6- Boost immunity
7- Lower blood pressure and heart rate
Where to start:

 
Find the right location

 

Find the right massage chair

 

Add natural elements

 

Stimulate your senses

 
Find the right location 
Deciding on the right space within your home for your Wellness Room is very important. You want to choose a space with no distractions, a quieter area of the house where you will be able to relax and get away from your busy household. Consider converting a one-time home office, finished basement or a corner of your bedroom.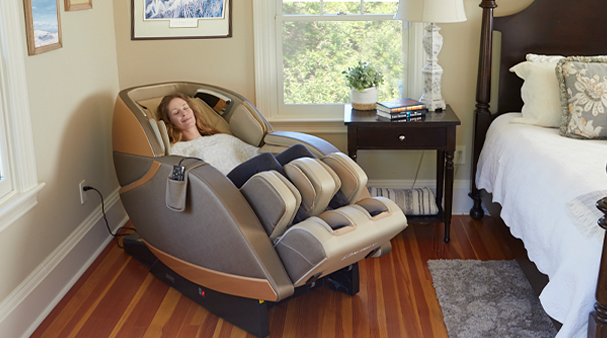 Find the right massage chair 
A massage chair is not a luxury, it's a necessity. The health benefits of massage are amazing, and a massage chair is the ultimate way to realize them. Many premium massage chairs have auto programs right at your fingertips, like "Morning", "Neck & Shoulder", "Post Workout" and "Rest & Restore". Features include 4D back massage, oscillating calf massage and reflexology foot massage just to name a few. Worried about space? Most Infinity massage chairs feature "Zero Wall Fit™ Space Saving Technology" requires only 2"-4" of space behind the backrest at any given position. Check out our Buyers Guide to help in the buying process or shop for your perfect chair.
Add Natural Elements 
Natural elements can often help reduce create a soothing environment. Choosing a room with natural light can help you relax and adding an assortment of plants like aloe and snake plants that are good for removing toxins and humidifying the air. Choose colors and textures that speak to you. 
Stimulate your senses 
The feel of your room should encourage rest and relaxation. Lighting can dramatically affect the mood of a room. Adding a lamp that has multiple dimming options and give you the flexibility of adjusting the light to fit your mood. Dimmer, "warmer" light can help create a calm atmosphere. Add in some candles and aromatherapy to help complete your retreat. Consider creating a zen playlist on your favorite music service. Check out Infinity's Home Spa Playlist made just for you. Most Infinity massage chairs have integrated Bluetooth speaker to make it easy to stream music and set the mood.
The #1 benefit of an in-home retreat is that it's always there for you when you need it. Build the ultimate retreat so you can experience the ultimate massage experience in an Infinity massage chair anytime you want. Shop now